Magazine
Huf Concept Key – the future of car keys with UWB
It is a moment awaited with eager anticipation by many car buyers: the official handover of the car key. After all, with this symbolic act, the buyer knows that "now the car is finally mine." With the new Concept Key, Huf shows what the future of the car key looks like and how it will lead a meaningful coexistence with digital keys on smartphones and NFC cards.
The new Huf Concept Key is an impressive example of modern car keys that enable entirely new forms of passive entry thanks to new sensor technologies such as Bluetooth Low Energy (BLE) and Ultra-Wideband (UWB). Huf is following the same path as car manufacturers in developing new generations of vehicles: Before they start work on implementing a new series model, they use design studies to gather customer feedback. Some concept cars even end up being built for real. It is not unusual for these one-off designs to become the stars of the show at major automotive exhibitions and to captivate visitors to these events as well as car fans all over the world. Rightly so, too, as concept cars demonstrate what is possible in automotive manufacturing and what the cars of the future could look like.
Car key of the future also benefits from many years of Huf expertise
"With the Huf Concept Key, we are presenting the future of the car key," says Claus Vollmer, Head of the Business Unit Locking & Authorization. "As one of the world's leading automotive suppliers for car access and authorization, we have taken our expertise in manufacturing and engineering and applied it to the development of this key. With this design study, we are answering the questions most frequently asked by our customers and, at the same time, giving some idea of how car owners' desires for a more advanced kind of car authorization can be fulfilled. The Huf Concept Key reflects our expertise as a long-standing car key specialist," continues Vollmer.
Huf has been supplying the automotive industry for more than 100 years and is one of the driving forces behind innovation in car access and authorization. For example, it was Huf who invented the remote control key using infrared technology and introduced it in a production car (the Mercedes SL R129) for the first time in 1989. As one of the pioneers, Huf has played an active role in the development of passive entry. And the first door handle with NFC technology was also supplied by Huf.
Customer needs always come first in the product development processes at Huf. This philosophy was very much at the top of the agenda in the development of the Huf Concept Key. The idea of the palm charm came up very early in the conceptual phase and was to have a big impact on surface finish and design. Another key point involved making it a desirable object. At first glance, the car key was to make car owners feel like they absolutely had to hold it in their hands. At the same time, frequently asked customer questions as well as findings from market research and Huf's experience having manufactured several million car keys were all incorporated into the implementation of this concept study.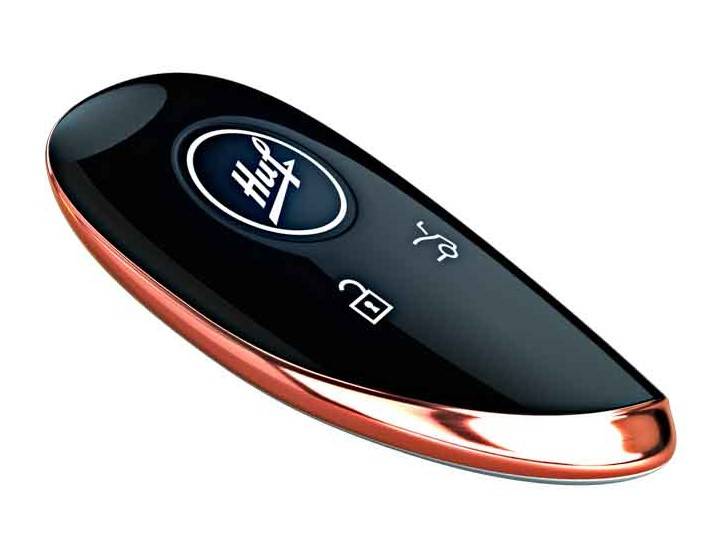 The new Huf Concept Key with touch surface.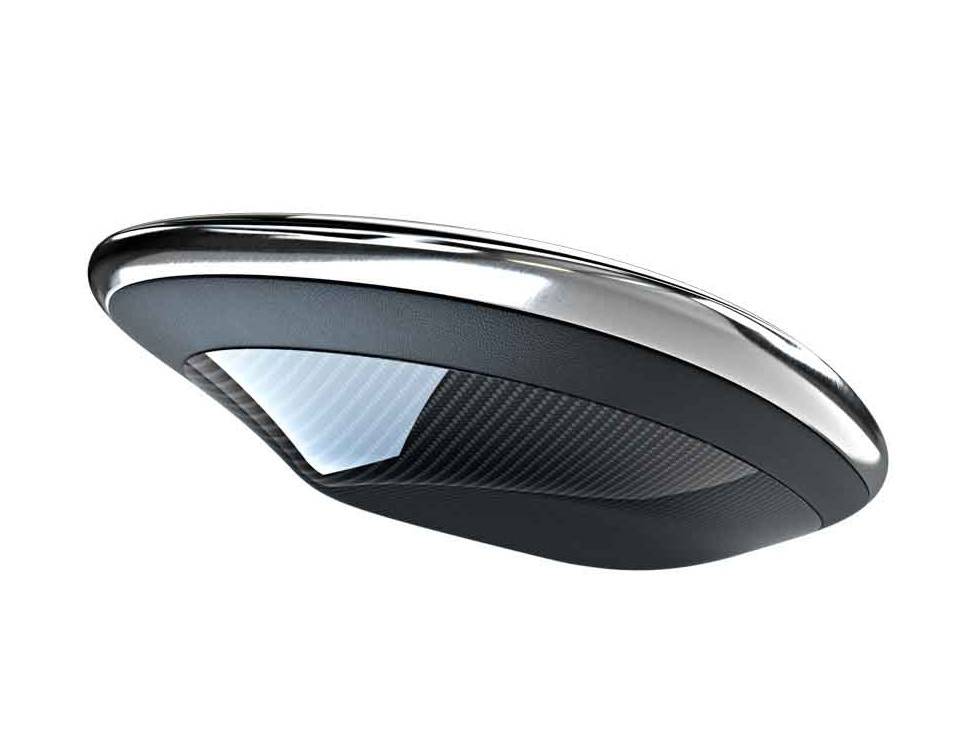 Impressive: With elegant lines and very good haptics, the key convinces not only when looking at it but also when holding in hand.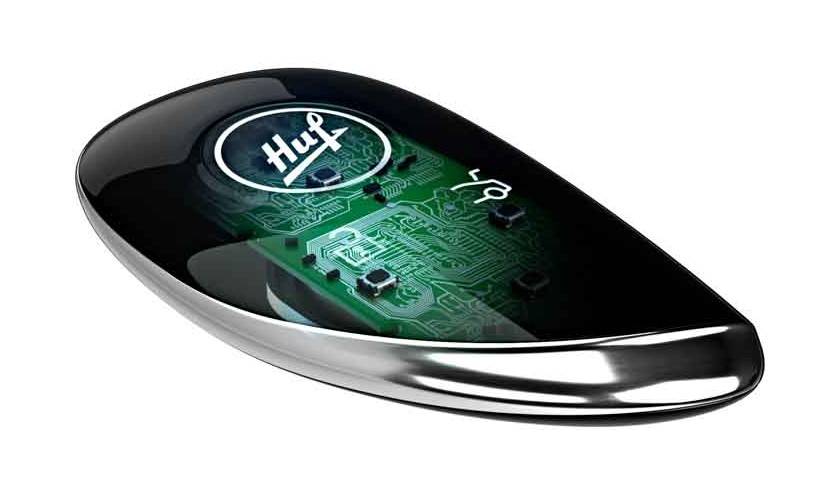 Mechatronics in a compact design. The circuit board in the Huf Concept Key enables active access at the touch of a button or passive authorization thanks to sensor technology.
In partnership with an external design firm, the Huf developers created a car key body that reflects the dynamism of a car and, with its minimalist shape, picks up on not only the Huf brand design but also the latest trends. The car key has a subtle teardrop shape, with smooth sides and elegant curves. Its asymmetric design means that it looks different from every angle, thereby arousing curiosity in the beholder. Its tapered lower end also means that it is the epitome of lightness. When placed on a flat surface, the car key looks almost as if it is floating.
Car key of the future offers high degree of individualization
However, the Huf Concept Key has more than just visual refinements to capture the attention. Its ergonomically shaped body fits perfectly in the hand, and its smooth surfaces give it an exceptionally pleasant feel. This can be customized to a great extent through the use of different materials.
Huf is a specialist in unusual combinations of materials, which are frequently requested by customers. This has previously been implemented in series production of an European car manufacturer. Remote control keys of the premium cars can be ordered with leather, clear varnish and even wood inlays on request.
Car key customization for a personal touch and feel
The lower body of the sophisticated Huf Concept Key can also be customized - in terms of color and with different materials such as brushed aluminum and even leather and wood.
The edging running around the car key gives it more than just the necessary solid and robust characteristics. Variations with silver, gold, or stylish rose gold give the key an additional standout visual feature. The edging can also be personalized with the aid of the patented Signocrom technology of Huf, with patterns or lettering applied to chrome by laser for a long-lasting effect and a high level of accuracy.
State-of-the-art car key operation and passive authorization with BLE and UWB
On the front of the car key, Huf has dispensed with conventional buttons and instead opted for a smooth surface that gives slightly when touched. As a result, the remote control key reflects modern user behavior and acts rather like a touchscreen interface but is much sturdier than a cell phone and also less susceptible to accidental operation. The large central logo can be illuminated in a range of colors and variations. The generic study employed the Huf logo, but any design can be used in its place. Pressing the logo will cause it to light up and the car doors to unlock.
The Huf Concept Key does more than merely open the car reliably via button command. It is also equipped with the latest, most accurate wireless technologies for passive authorization. Bluetooth Low Energy (BLE) in conjunction with Ultra-Wideband (UWB) are capable of achieving extremely accurate positioning across a large radius in comparison with current wireless technologies. Furthermore, these technologies are immune to relay attacks, in which thieves extend wireless signals so that they can easily open cars.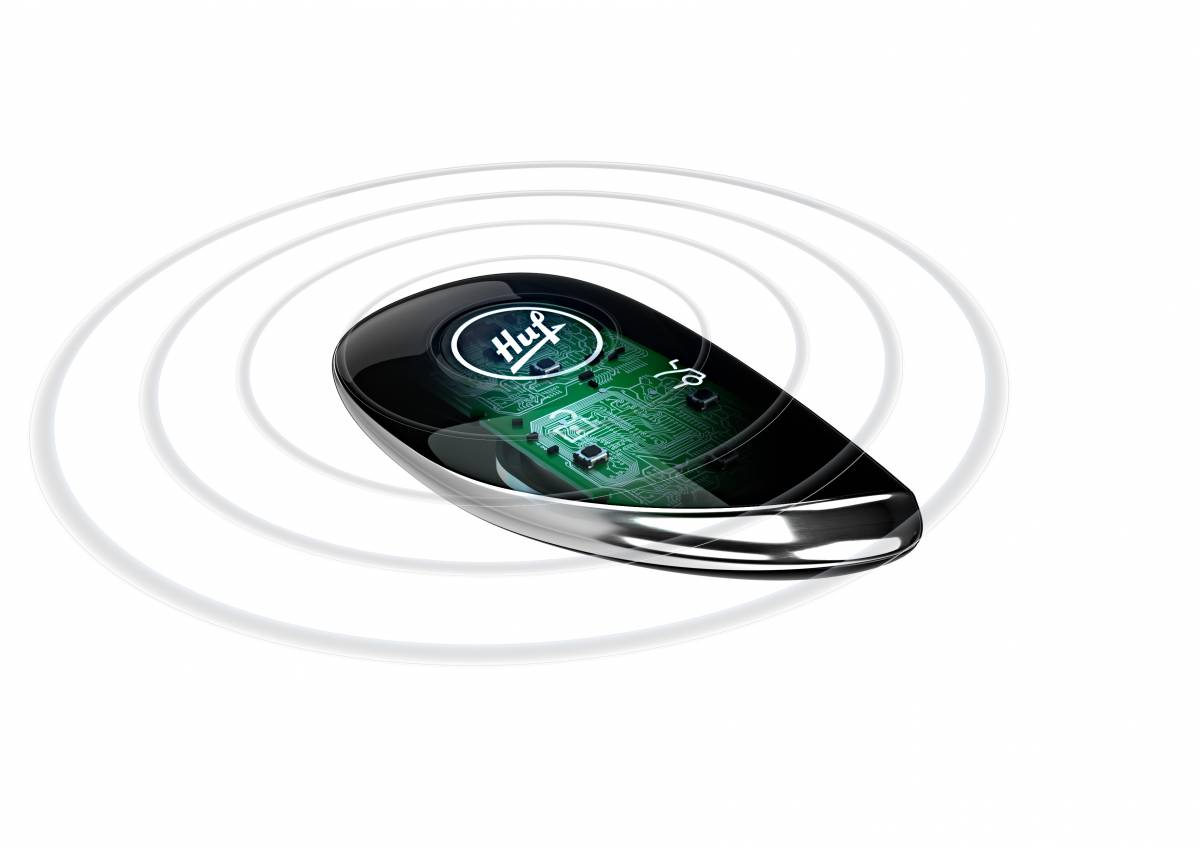 The Huf Concept Key scores with an enormous range of sensor technologies - from NFC (Near Field Communication) and BLE (Bluetooth Low Energy) to UWB (Ultra Wideband).
Huf is working with car manufacturers and tech giants such as Apple, Samsung, and Google as a member of the Car Connectivity Consortium toward making UWB the global standard as soon as possible. In addition to what the company has learned from that project, the experience that the Phone as a Key team is acquiring from working on the demo vehicles has been incorporated into the Huf Concept Key. In that work, Huf is already achieving excellent performance with its UWB and BLE sensors, as customers can see for themselves in benchmark tests.