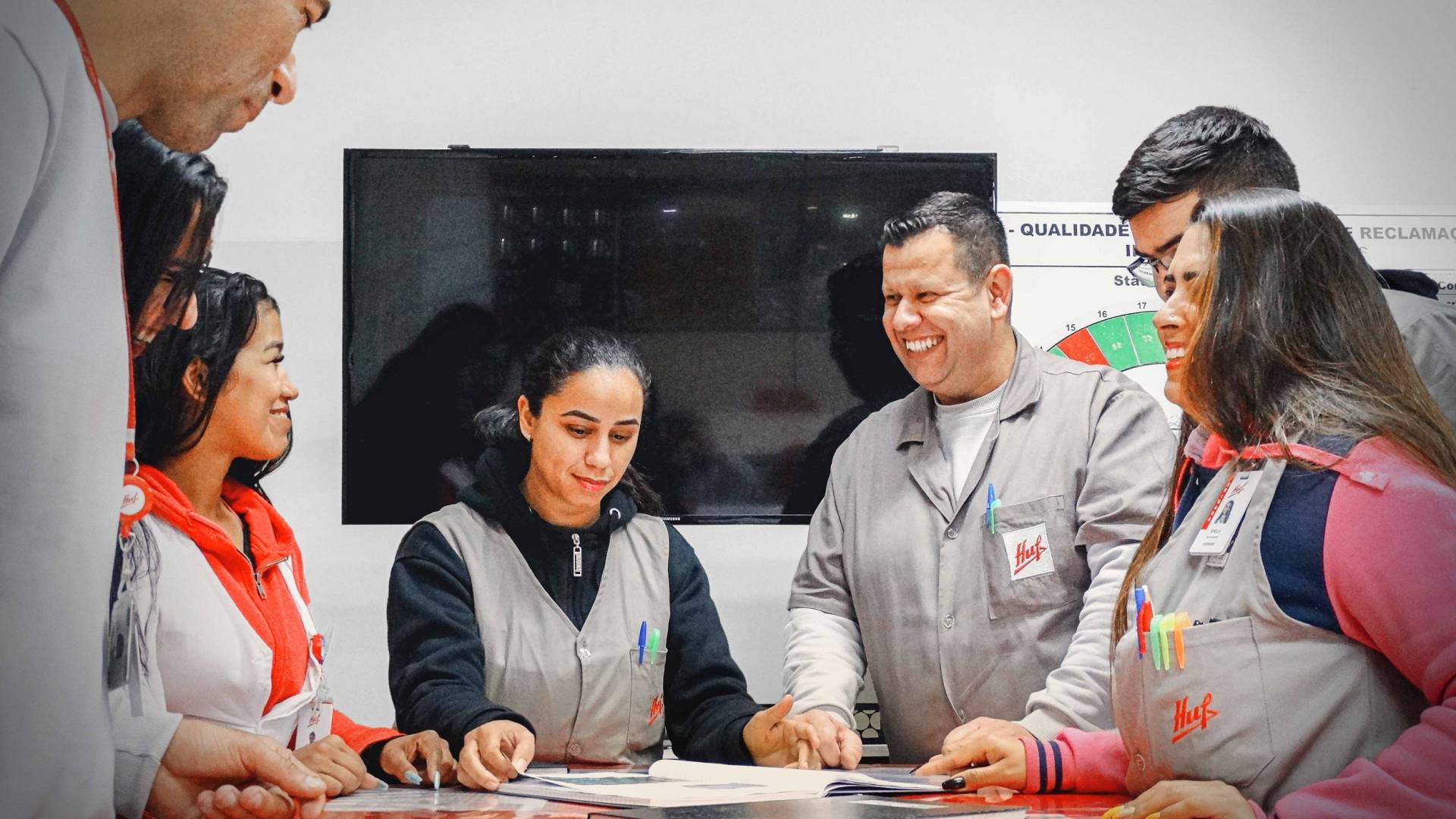 Magazine
Huf Brazil – automotive supplier on the pulse of the South American automotive industry
Huf Brazil is located in Atibaia just outside Sao Paulo at a hub of the South American automotive industry.  Since more than 25 years, the automotive supplier is the reliable partner for many international customers when it comes to lock sets, remote keys and modern door handle systems.
With over 12 million inhabitants, Sao Paulo is not only the largest city in Brazil, but in the Southern hemisphere, and one of the largest megacities in the world. Sooner or later, every visitor to Sao Paulo will almost inevitably cross the Avenida Paulista. With its numerous impressive skyscrapers, theaters, and museums, but also the large banking district, the three-kilometer-long street is reminiscent of 5th Avenue in New York. It brings together residents as well as visitors – especially on Sundays: Then the street is closed to traffic and offers a large open-air cultural spectacle with musicians, dancers, magicians, and other artists.
What few people know: When the cars return to the multilane avenue on Monday, Huf will also accompany the numerous commuters. The specialist for car access and authorization is the largest automotive supplier of car door handles and keys in Brazil and counts the country's three largest car manufacturers among its customers. And unlike many other suppliers, the car access technologies of Huf Brazil are also made in Brazil, just about 80 kilometers northeast of Sao Paulo, in the city of Atibaia.
Huf Brazil: automotive supplier celebrates 25th anniversary
At the gates of the megacity, Huf Brazil manufactures door handles and car keys for renowned customers. The plant is one of the longest-established locations in the global network of the automotive supplier and had a special reason to celebrate in 2022: To mark its 25th anniversary, about 300 employees plus several special guests gathered at the site of Huf Brazil on Rodovia Dom Pedro I in July and enjoyed the festivities with numerous delicacies from the region in the festively decorated plant.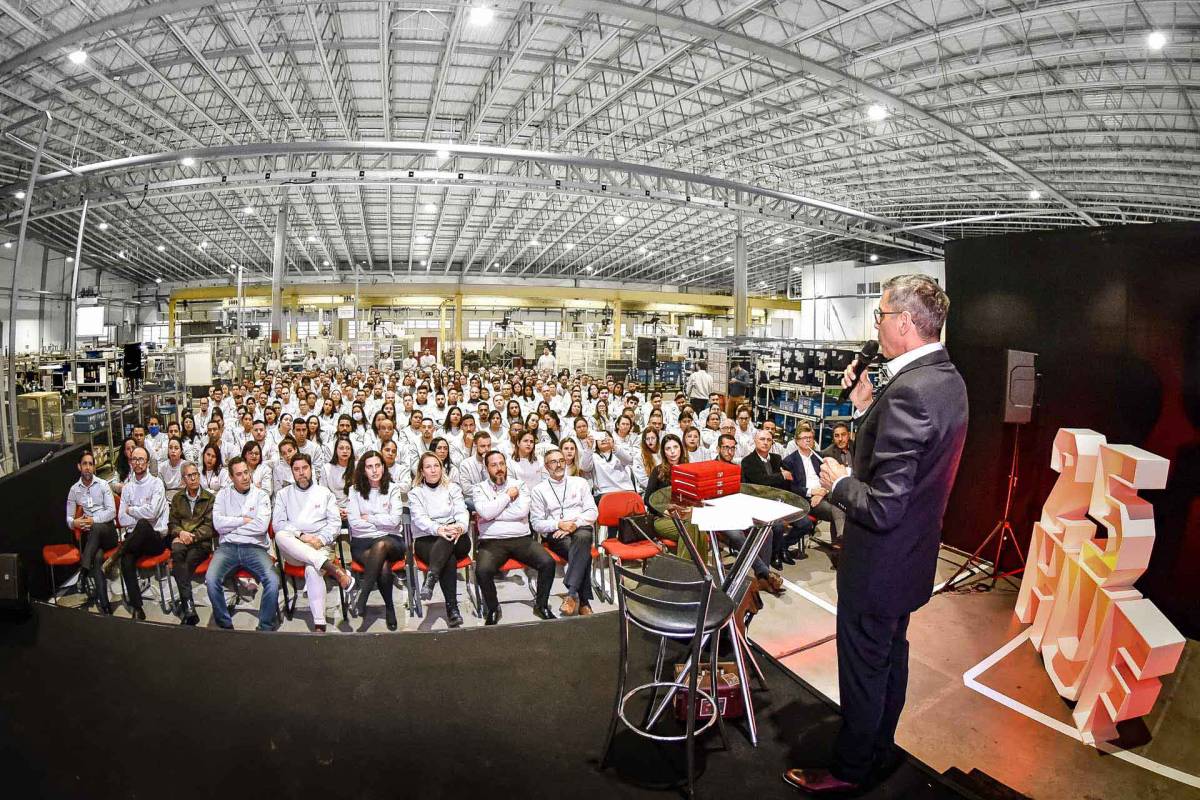 To celebrate the 25th anniversary, Orlando Moral, Plant Director Operations Huf do Brasil, welcomed many special guests – among them was CEO Tom Graf.
Huf CEO Tom Graf also arrived for the celebration and honored employees who have remained loyal to Huf since the establishment of the Atibaia facility. Among them Antonio Mauro Passos, with the company since January 4, 1999. The 57-year-old is thus not only the longest-serving employee at the plant of the automotive supplier, but also the oldest, and as a logistician he contributes daily to the smooth and punctual delivery of the products to our customers. Nilson Alexandre joined Huf Brazil just two months after him. Starting as a production operator, he quickly recommended himself for further tasks and moved to maintenance of the automotive supplier. Today, as a process technician, he ensures high production and product quality and works on the further implementation of lean management at the Huf do Brasil plant.
The grand celebration was also attended by guests of honor such as Orias Santana, president of the local trade union, and numerous politicians such as Annibale Somma, the municipality's secretary for economic development. They emphasized the great importance of the automotive supplier for the city. "Huf Brazil has contributed to the economic and social development of Atibaia over the past 25 years," said Julio Mendes, president of the Atibaia City Council, for example.
Automotive supplier Huf is where its customers are
However, Huf do Brasil has not only established itself as a strong employer in the Atibaia region, but also plays an important role for Huf on the American continent. For good reason, the Huf management decided to expand its global footprint to South America in the late 1990s to support OEMs expand in this booming market. Huf do Brasil initially started in 1997 with a plant in Itapecerica da Serra, where door handles and lock sets were manufactured for one of the world's largest car manufacturers. However, the plant had become too small after only two years. Therefore, the employees moved to a new plant in Atibaia – room enough for even more growth, because by 2000, lock sets for several brands of a well-known automotive company were already coming off the production line at Huf do Brasil.
Huf Brasilien
TOTAL AREA: 36.000 m²
PRODUCTS: Door handles and brackets, ID devices (remote and passive access), tailgate release products, lock sets
The latter confirmed its high level of satisfaction with the performance of Huf workers in Brazil by awarding them the title of best supplier. At the same time, production of door handles for a minivan of this automotive company – a car that is very popular on the South American market – began in Atibaia.
In 2003, this was followed by another order and from then on a renowned truck brand had all the lock sets and steering columns produced at Huf Brazil in Atibaia. And not only for the Brazilian market – Huf Brazil even supplied lock sets from Atibaia to the the commercial vehicle manufacturer's Scandinavian home country .
From the mid-2010s onwards, numerous other major orders were received from well-known car manufacturers – for example, tailgate closure systems for a US car maker and safe lock sets for a French automotive group.

Huf do Brasil is located in the heart of the Brazilian automotive industry based in the Sao Paulo area. Many customers and prospective ones are to be found around the metropolis.
Huf do Brasil impresses with systematic lean management
"Huf is a fixture in the Brazilian automotive industry for car access and authorization. And especially during the Covid-19 crisis, which hit our country hard, we were a strong partner for our customers. Thanks to the great commitment of the team, we were able to supply our customers just-in-time even in these difficult times and continue to impress them with high product quality," says Orlando Moral, who has been heading the site of the automotive supplier as Plant Director Operations of Huf Brazil since 2019.
"One helpful factor was that we have consistently aligned our production lines and processes with the principles of lean management. We are far from stopping there, but will continue to increase the productivity and profitability of our site in a continuous improvement process," Moral adds.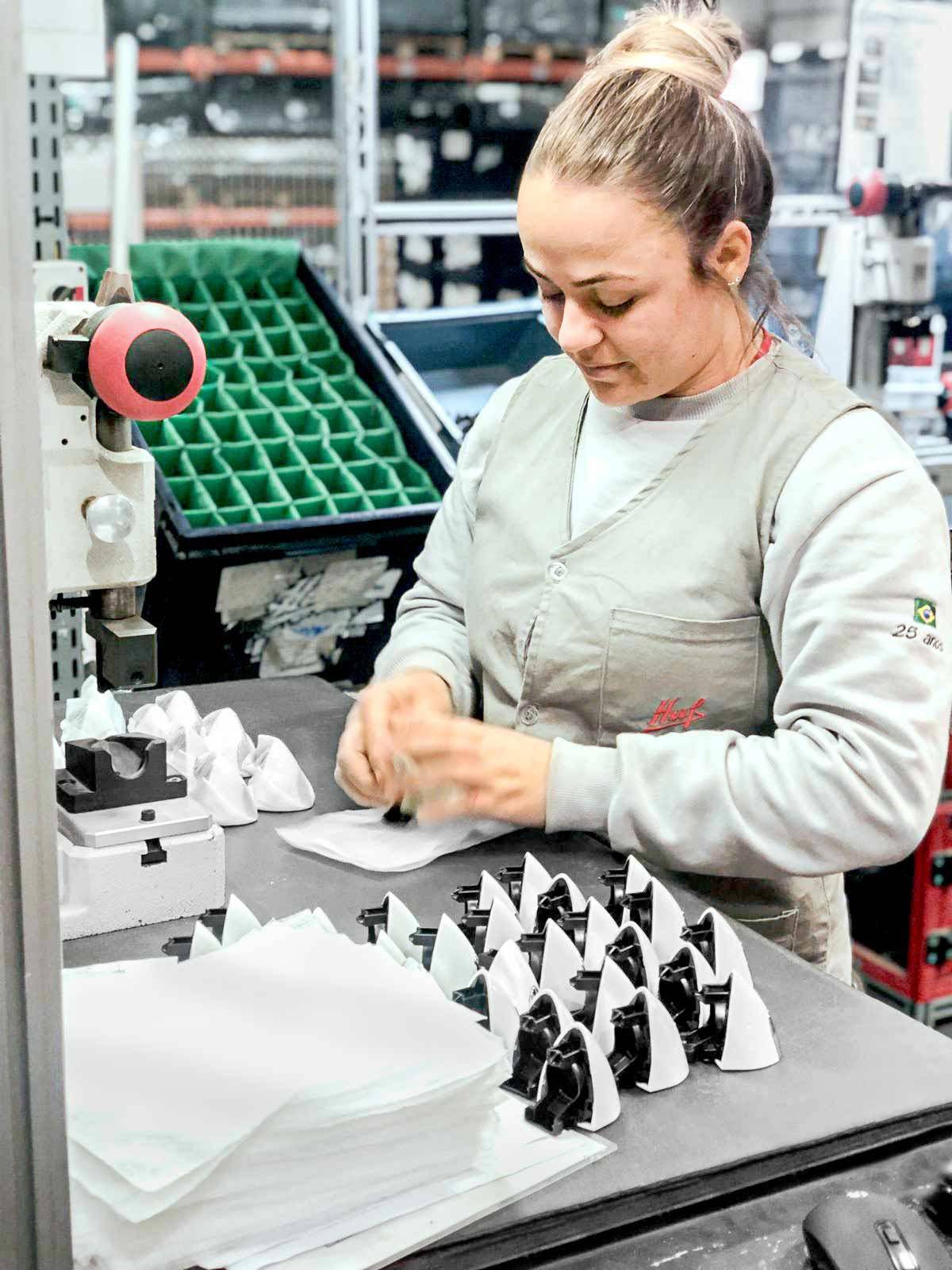 Everything in hand: Sabrina de Lourdes during the production of door handles at Huf Brazil.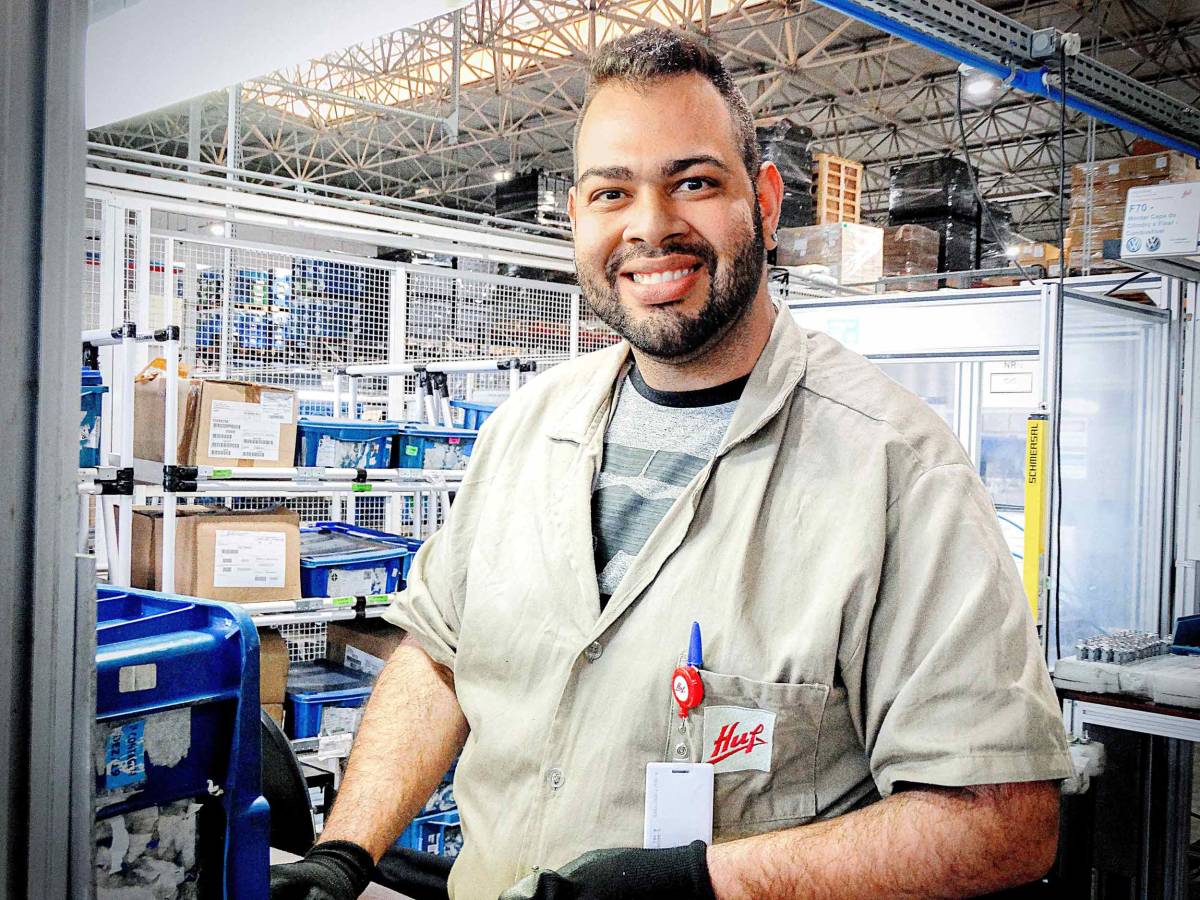 Guilherme Vieira is working at the lock set production.
Automotive industry in Brazil growing, manufacturers investing
Car manufacturers and suppliers have been active in South America for decades. The region around Sao Paulo in particular has developed into a center for the country's automotive industry and thus also for automotive suppliers like Huf. No wonder, since Brazil ranks among the top ten of the world's largest car markets. Volkswagen announced at the end of 2021 that it would invest around one billion euros in its plants in South America by 2026. Three of these plants are located around Sao Paulo.
Existing customers expand activities, new OEMs enter the market
In recent years, numerous Chinese OEMs have set up shops in the region, too. If you drive west in the opposite direction, you will reach Campinas, where BYD has set up a production plant. Meanwhile, Great Wall Motors is also located not far away. China's largest SUV manufacturer bought the Iracemapolis plant from Mercedes-Benz in 2021 and says it is planning an innovative, intelligent factory with state-of-the-art production technology and plans to produce 100,000 vehicles per year after the announced plant expansion.
"Huf is a fixture in the Brazilian automotive industry for car access and authorization."
Orlando Moral, Plant Director Operations of Huf Brazil.
"We are very well placed to leverage this potential and also to expand relationships with existing customers. An important factor is that we are not resting on our laurels, but are specifically adapting and expanding our product portfolio to meet local customer needs", says Leandro Dias, heading the sales team in Brazil. "For example, we are already supplying one of the largest OEMs with remote keys. The electronics for this key were developed in the USA and also produced there. For other electronic components, too, we are incorporating the know-how of specialists in Mexico, the USA and Portugal. Combined with our skills in assembly and injection molding, but also very precise mold production, we achieve top quality at competitive prices. With this total package, we will convince more customers," continues Leandro Dias.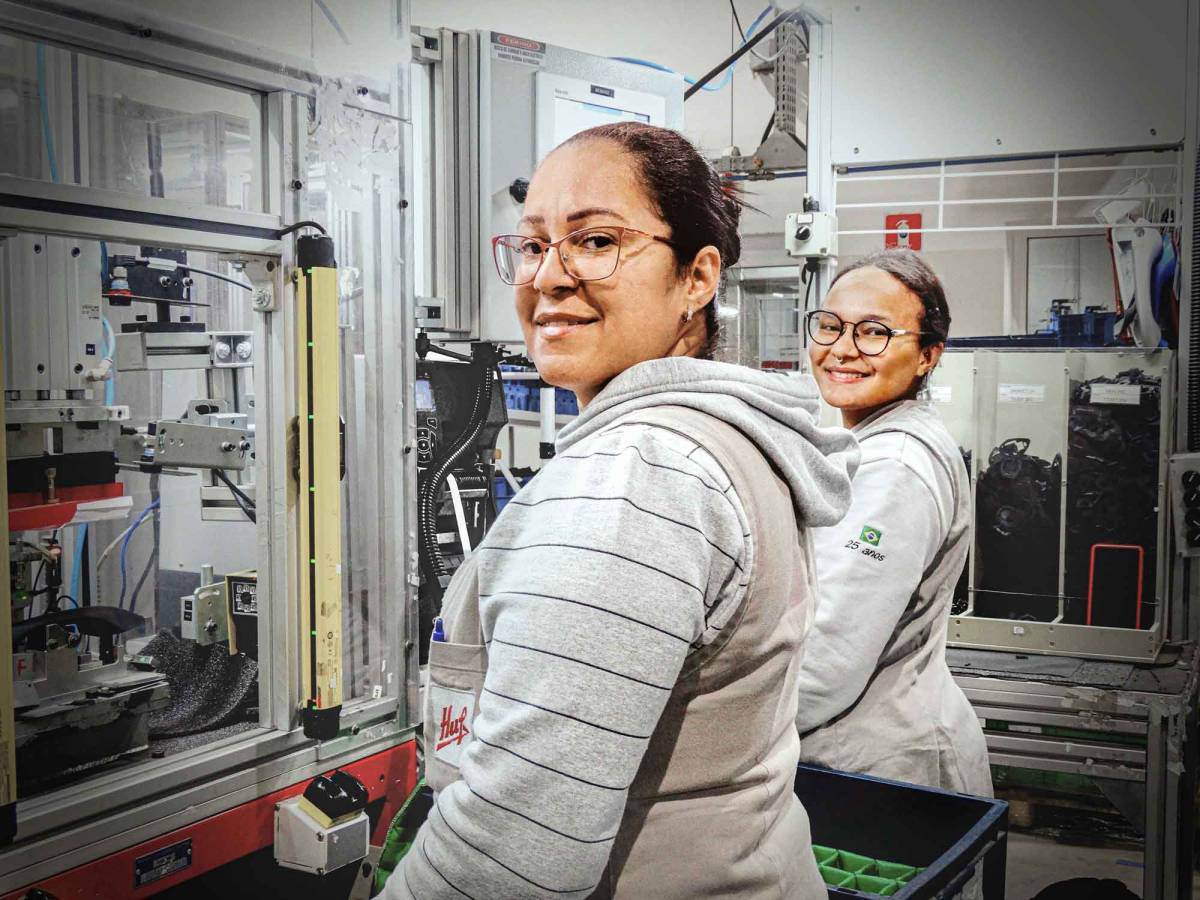 302 people are working at Huf do Brasil – among them Erica Ferreira and Ana Paula Lemos.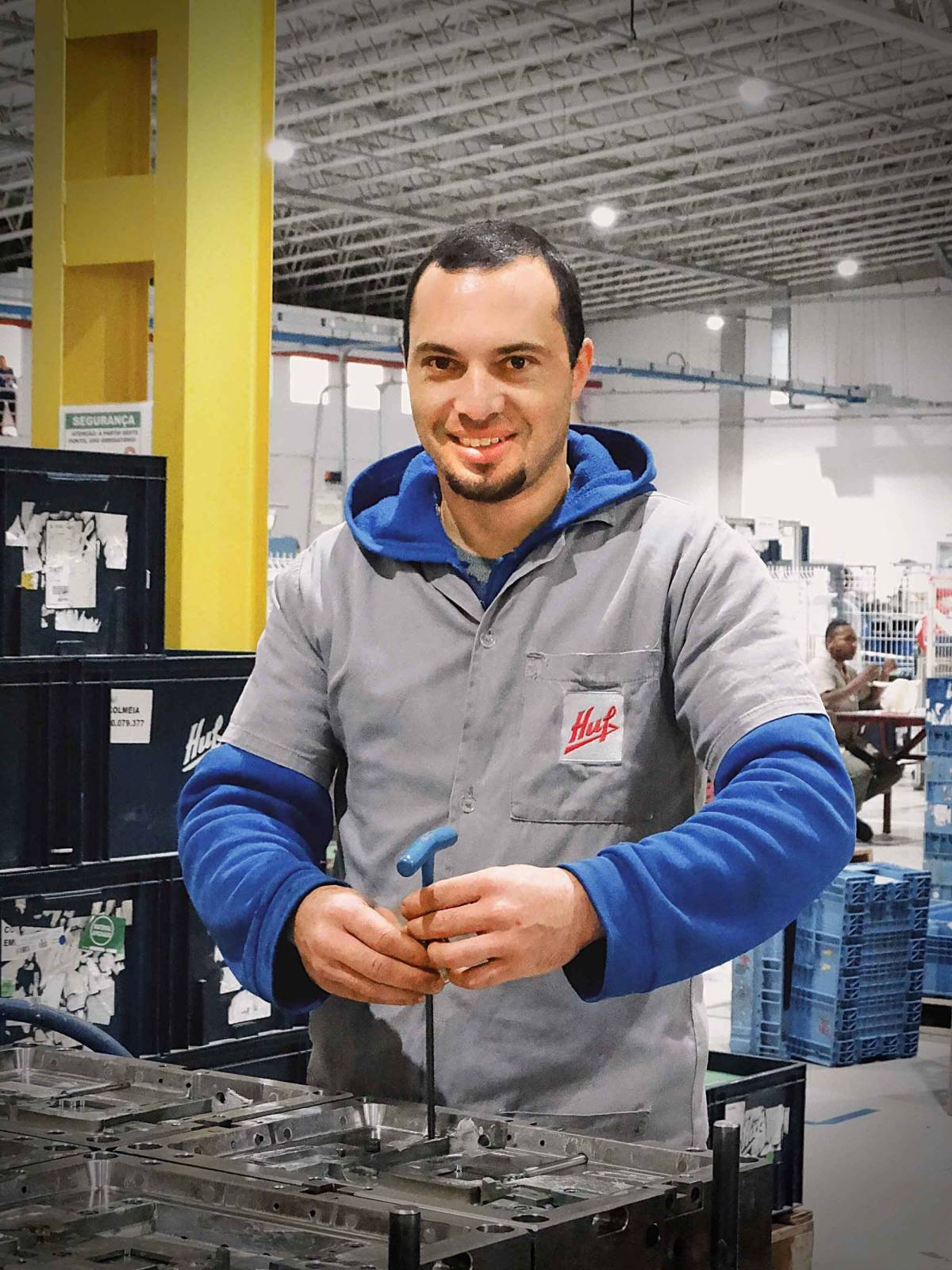 Having fun at work: Giuseppe Capelli in the production area of Huf Brazil.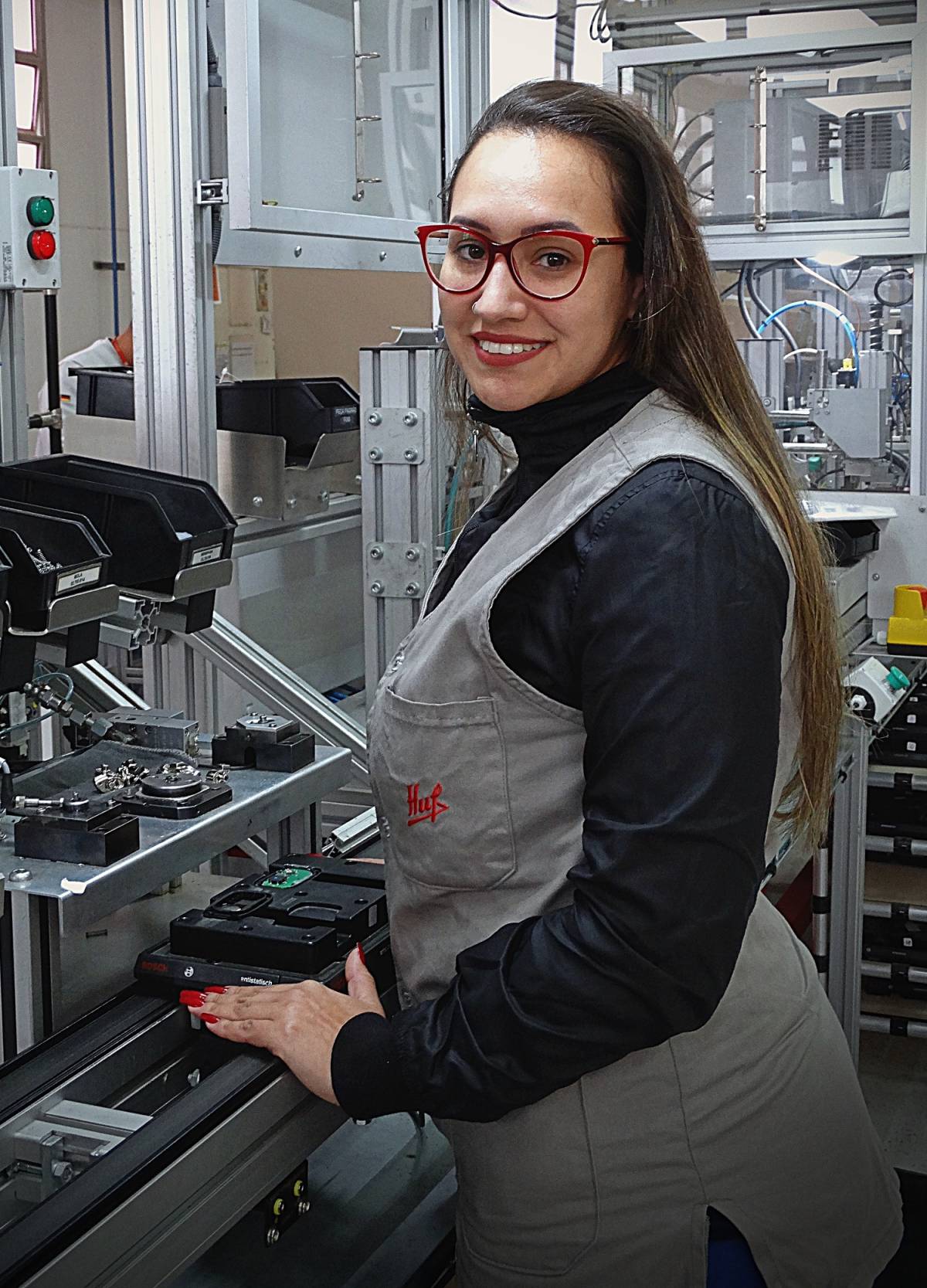 In addition to door handles and brackets, the employees of Huf Brazil also produce ID devices, tailgate release products as well as lock sets.
"An important factor is that we are not resting on our laurels, but are specifically adapting and expanding our product portfolio to meet local customer needs."
Leandro Dias, heading the sales team in Brazil.
Huf Brazil welcomes visitors

Activate Google Maps to display an interactive map. Data is transmitted to Google in the process.